Got Mold? Leave It to the Experts
4/6/2021 (Permalink)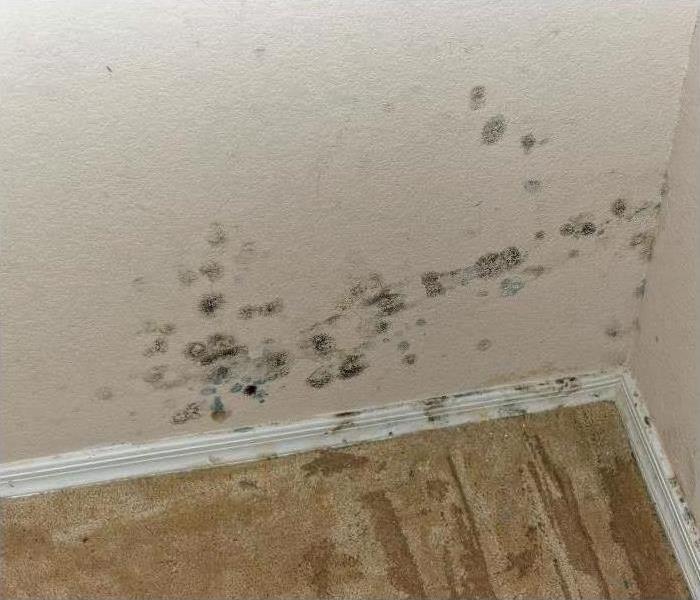 Mold is a fungus that grows in dark, damp corners and presents significant health effects to the surrounding environment. This is why a professional mold removal company is essential to remediate a mold situation. Mold growth can occur in any home, so it's critical to keep an eye out for conditions that might promote mold activity. Leaks, wet basements, or condensation from ducts that dampen surrounding insulation are just a few examples of issues that make a house a prime target for mold growth.
Mold occurs naturally in both outdoor and indoor environments. Mold growth materializes where there is moisture. It can occur in ceilings, floors, insulation, wood, drywall, clothes, carpet, and more. Mold also grows in environments with a warm temperature, with growth beginning in less than 48 hours of excessive moisture. Mold functions as a decomposer, consuming the dead materials on which it grows, and it can appear to be black, blue, or green. On the other hand, outside mold prefers shaded areas as ultraviolet sunlight deters the growth of mold.
A professional mold remediation service is the safe and most effective approach. The professionals from SERVPRO of Lafayette/Moraga/Orinda understand industry protocols, and have the necessary equipment and training to do an effective job. Moisture meters, hydrometers, "air scrubbers," HEPA vacuums, and antifungal and antimicrobial products are utilized.
SERVPRO technicians know where to search for harmful, hidden molds and complete the mold remediation protocols. We also advise you how to best protect your home.
SERVPRO of Lafayette/Moraga/Orinda specializes in mold cleanup and restoration, in fact it's a cornerstone of our business. Our crews are highly trained restoration professionals who use equipment and techniques to quickly and safely remediate your mold problem.
If You See Signs of Mold, Call Us Today - (925) 299-1323