Bathrooms are a Typical Source of Water Damage in Lafayette Homes
9/1/2021 (Permalink)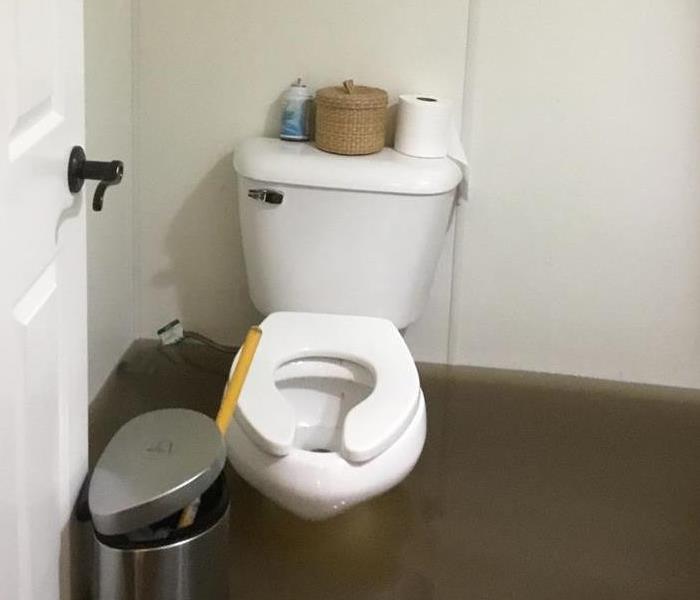 The water damage to this bathroom in Marin County caused significant flooding, requiring extensive cleanup services.
Bathroom Water Damage in Your Lafayette Home
Water damage knows no bounds and can occur at any time and in any location. There are, however, a few rooms in the house that are more vulnerable to water damage than others. Take, for example, the bathroom. Three areas of the bathroom are particularly prone to water damage.
1. Bathroom sinks
2. The bathtub
3. The toilet
Leak Under the Sink
When you discover a pool of water on the bathroom floor beside or inside the cabinet, you are witnessing the dreaded situation you may have scoured the internet for: "leaking pipe under bathroom sink." Finding out where the leak is coming from is essential for fixing a leak under the bathroom sink. You can fix or replace the defective part once you know where the leak is coming from. A clogged drainpipe, a loose pipe connection, or a leaking sink drain are the most common causes. So, if you notice a problem under your sink, act quickly to repair the leak and dry the damaged area.
Trouble in the Tub
Another common area in the bathroom where water damage can be seen is around the tub and the shower. If water can escape the tub's constraints, it could be due to one of the following issues:
1. Burst Pipes
Burst pipes are one of the most common causes of water damage in bathrooms. Unregulated water pressure, temperature variations, or the overall deterioration of old pipes can all cause this. In addition, in the winter, uninsulated pipes can potentially freeze, causing pipes to burst.
2. Leaking Pipes
There are various aspects of a shower enclosure or bath that could be leaking, and you should inspect them. Caulking around the edges, just like your sinks and toilets, will keep water from seeping into the walls, behind shower enclosures, and beneath your tub. You may already have water seeping in where it doesn't belong if it shows signs of wear, cracking, discoloration, degradation, pealing, or missing entirely. Water damage behind the walls of your shower or tub may cause major issues in the future, or it may be growing mold without your knowledge.
3. Sewage Backup
Due to heavy rainfall or other storms, sewer systems are sometimes unable to handle the volume. Issues with main sewer lines might also prevent them from carrying wastewater away. When the main sewage line clogs, water and sewage will back up your pipes and enter your home through the lowest point, usually the shower drain. This is a highly serious condition that water damage experts should treat to decrease the risk of health hazards.
Toilet Overflow
Your toilet and sewage system are both straightforward systems that remove sewage from your home using gravitational forces. However, water damage is not far behind when something hinders this system from working as it should. For example, clogs in drain lines or the central sewage system might stop waste from leaving the house and cause the toilet to overflow. Black water is the term for this overflow. When dealing with a toilet overflow, keep your distance and contact a professional water damage restoration company like SERVPRO of Lafayette/Moraga/Orinda. This type of water frequently includes Black Water, the most dangerous kind of water damage because it has encountered feces, a breeding ground for toxic germs and disease-causing pathogens.
Time to Spot a Potential Water Leak
A bathroom water leak is never a good thing. Unfortunately, homeowners squander tens of thousands of gallons of water each year. Bills and stress levels climb as water seeps out of the pipes and into your home. Water damage is usually proportionate to the amount of time it goes unchecked. As a result, the key to avoiding unnecessary damage is to recognize the issue before it has a chance to escalate.
Trust SERVPRO of Lafayette/Moraga/Orinda for Your Restoration Needs
SERVPRO of Lafayette/Moraga/Orinda is a professional water damage restoration company with the skills and resources to restore your home to its pre-damage condition. Our staff responds quickly to assess the damage, develop a customized restoration plan, and get to work. Our goal is to make water damage from a bathroom leak "Like it never even happened."
We Handle the Insurance Process for You!
Free Damage Estimates
24/7 Emergency Services
Call SERVPRO of Lafayette/Moraga/Orinda for Immediate Assistance - (925) 299-1323